Mix-Down and Mix-Up
The VoiceMeeter Bus Modes:
From Surround down to Stereo. From Stereo up to Surround.
Composite, Stereo Repeat and more.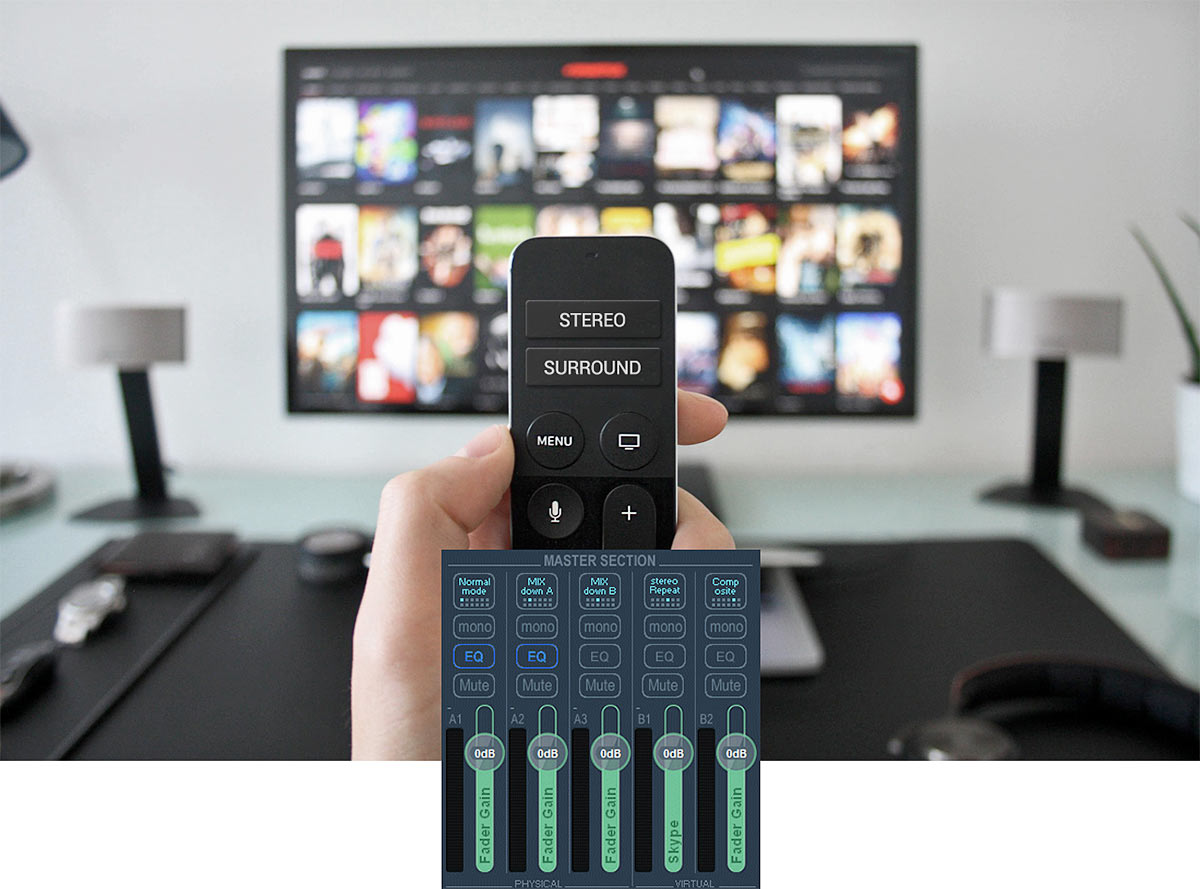 VOICEMEETER provides additional routing and processing modes for all buses in order to use up to 8 output channels in different ways. These are:
MIX DOWN. There are two sub-modes available: A and B
STEREO REPEAT
COMPOSITE MODE
UP-MIX TV
UP-MIX 2.1, 4.1 6.1
CENTER ONLY / LFE Only / REAR Only
MIX DOWN MODE
Create a stereo mix from a 5.1 or 7.1 surround signal.
W
ith Mix Down, it is possible, to manage 5.1 or 7.1 sources but use stereo headphones/ speakers at the same time. A typical use case is the surround signal on output A1 to a 7.1 PA system in NORMAL mode plus a stereo MIX DOWN on output A2 to your headphones.
The stereo speakers' left and right channels, as well as the center, sub, and rear channels, are combined into an output.
Mix Down is available in two different sub modes:
MIX DOWN A
To simulate a surround effect in stereo, the rear and side speakers are mixed out of phase.
MIX DOWN B
Rear & side Speakers are mixed in phase.
L + (70% FC) + SW + RL + SL
R + (70% FC) + SW + RR + SR
STEREO REPEAT MODE
Spread your stereo sound to 6 other possible channels of the output device.
T
he Stereo Repeat Mode can be used with the Master EQ to make a crossover to manage 2-way, 3-way or even 4-way speakers, because the 8 channels can be managed independently by the Master EQ (also made to tweak a multichannel P.A. system).
It is possible to make filters by summing 3 or 6 LPF or HPF filter (12 db/oct each) for each channel or each couple of channel.
Stereo Repeat
ch1 = FL  ch2 = FR
ch3 = FL  ch4 = FR
ch5 = FL  ch6 = FR
ch7 = FL  ch8 = FR
Practical Use Case: EQ Crossover for Active Amp/Speaker
With Repeat Mode its possible, to create a Multi-EQ-Crossover to feed each speaker the most efficient and fitting frequency range. This way the speaker system´s volume and dynamic capabilities are significantly improved, as amps and membrans can focus on reproducing the frequencies for their intended range.
Channels 1/2 feed L/R bass with a Low Pass Filter
Channels 3/4 feed L/R Mid Range Amps/Speakers with a Low Pass + High Pass Filter (up to 36 dB/Octave filtering)
Channels 5/6 feed L/R High Range Amps/Tweeters with a High Pass Filter
COMPOSITE MODE
Combine any input or bus channel in the 8 channels of a bus.
The 8 channels of a VOICEMEETER BUS can be composed by any input (pre-fader or post fader) and the default BUS channels. It works like a classic patchbay, where you can combine any cable to any output.
The composite signal can be used to:
play it out on surround speakers
send it through VBAN to another computer
create a special multichannel recording for the integrated recorder – recording the BUS
send it to an ASIO DAW, connected to the Virtual ASIO related to this BUS
The composite patch can be defined in the System Settings Dialog Box:
UP-MIX TV
Spread a stereo source into a 5.1 or 7.1 speaker System.
UP-MIX 2.1, 4.1, 6.1
Logical up mix without CENTER – more adapted to listen to Music.
Examples:
– Extract LFE channel and send it to sub devices (sub woofer, Buttkicker, Subpac…).
– Send 5.1 Rear channel to wireless speaker (Bluetooth).
– Send Center channel on specific speaker device.
Need more help? Check these videos: