WHAT VOICEMEETER CAN DO FOR


PROFESSIONAL
PODCASTING
AND RADIO.
THE ESSENTIAL TOOL
FOR MODERN PODCASTING
Simply manage all your audio sources.
Mix all of your hardware and software sources in VOICEMEETER. Don´t think about switching drivers and software settings. Just mix, connect sources, solo, mute channels and move the faders. Create a professional Mic sound with integrated effects. Record your podcast with the integrated Recorder. Stream your mixes to other computers or mobile phones on your network. Comes with One Click Macro Buttons for all important features.
Connect and Mix two or more Mics.
The Podcaster´s app: Simply connect and mix all your microphones – USB headsets or pro audio mics – in an easy way. Just plug them to your PC and start mixing.
Solo, mute, add gain or split every mic of a guest in your show.
Add professional Voice effects, create robotic voices, cut background noise, use ducking or create the pro mic sound, that let your show stand out.
Create the professional Mic sound.
Sound better, sound like a Pro radio operator.
The INTELLIPAN element in every channel is a great sounding 3-Band EQ plus a voice doubler. Change the color of your Microphone voice, make it stronger, lower nasty frequencies and get a pleasing voice for your important conferences. Make your voice more audible. Remove noise. With two simple accessibility knobs, you can boost your voice and manage noisy conversations. Cut low-level noise with the integrated Gate.
Make your sound stand out.
Banana/Potato include a multi-channel Parametric EQ.
Each Master bus provides a professional Equalizer with 6 full parametric 3-Band EQs for the eight channels of the bus. The EQ is taken from our professional series of great sounding plugins and hardware console effects and simply sounds great.
Perfect for Podcasts, radio shows and serious home studios, which need to edit the sound to a professional level.
Make your voice more audible. Remove noise.
The inputs include an Audibility control. Boost your voice and manage noisy talk with two easy-to-use knobs. The Compressor can make the input signal dramatically louder and assertive. It simply lowers the dynamic of a signal by "compressing" the wave peaks and increases the gain of the signal afterwards. Voices become more "punchy" in comparison to other signals, making them more audible in the mix.
The Gate "cuts" low-level noise below a given threshold.
Make it louder. Protect against overloads.
The "Brickwall" Strip-Limiter in VoiceMeeter Banana + Potato allows to define a maximum limit for each audio source. This is helpful in a live show, where you want to be sure about your max level, effects, inserts or any other attending voices and protect your podcast, your ears and speakers.
With the Limiter you can make your voice much louder without overloading and distorting the sound.
THE KILLER FEATURE FOR PODCASTERS:
ONE CLICK REMOTE CONTROL MACRO BUTTONS

WORKING ALSO FROM YOUR PHONE
Nearly all VOICEMEETER features can be controlled with freely programmable MACRO BUTTONS. Up to 80 clearly titled buttons can be triggered by the mouse, keyboard shortcut, Game pad, MIDI messages or even Audio Triggers.
It is also possible to combine different requests to create a complex action on Voicemeeter. For example, a PUSH TO TALK or AUTO DUCKING function could set the MUSIC Gain to -10db and mute other talkers simultaneously.
Examples of VOICEMEETER commands:
Mute or Solo an input channel or a bus
Change the volume on channels or busses
Control the integrated Equalizer
Special voice effects with a single click (e.g. Modulation, Color Panel)
Change voice color/audibility for special segments
Start a sound & playback from the integrated recorder
Save or load a complete configuration files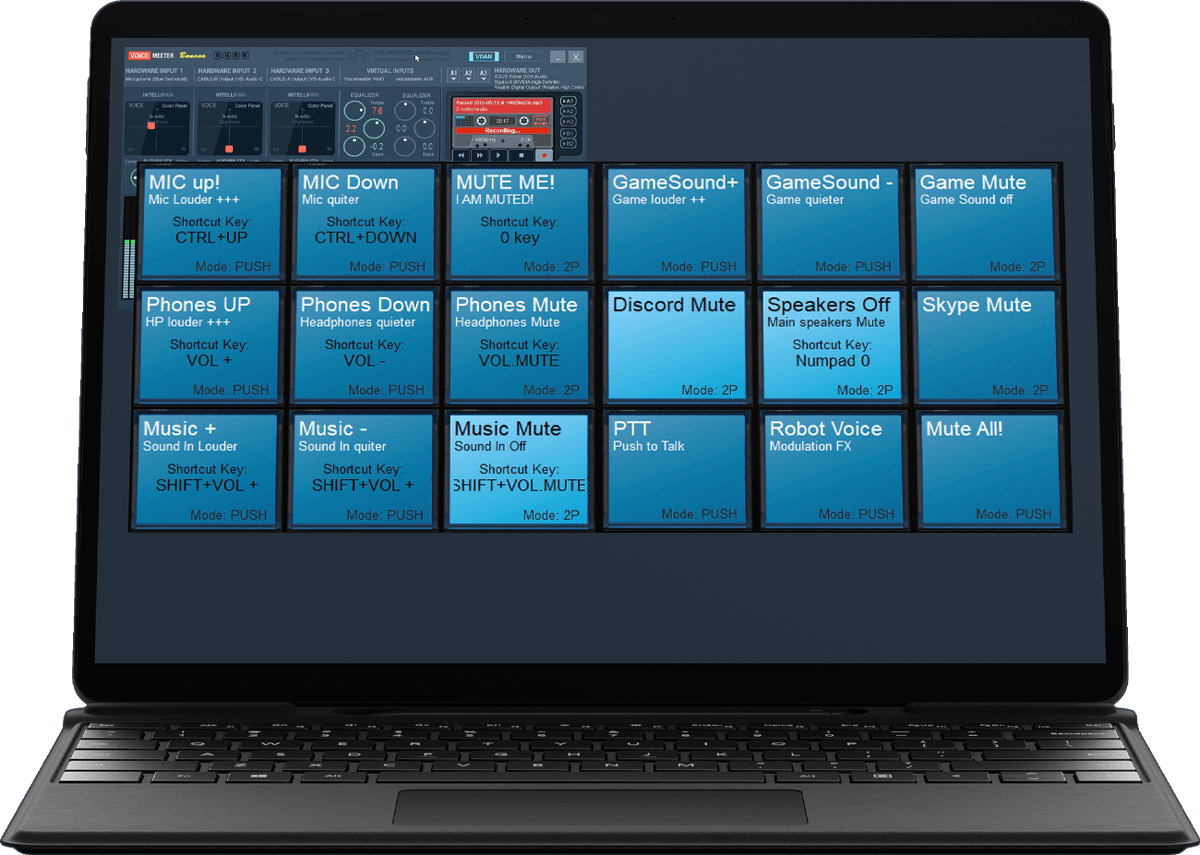 CHECK OUT THESE VIDEOS FROM OUR COMMUNITY