THE RECORDER
Record. Play. Mix.
Music
Podcasts
Streams
Meetings
Game Sound
Teamspeak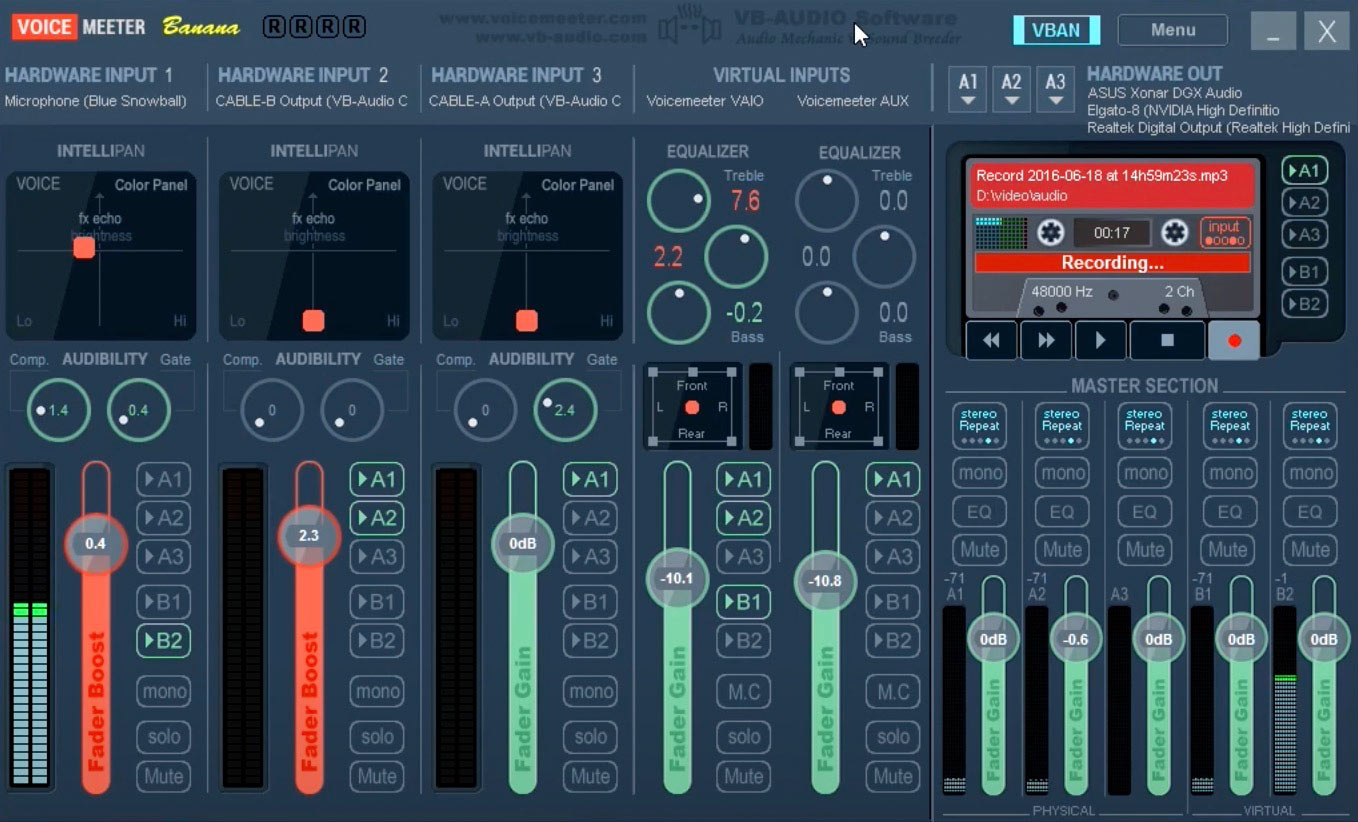 BANANA and POTATO include a full-featured recorder – celebrating the classic style. It looks and can be operated like a tape recorder – just press the buttons. Its fully integrated into the mixer and provides a lot of useful features, like Dictaphone mode and full 8-channel multitrack recording.
More features:
PLAY ON LOAD: Plays the selected file automatically.
LOOP: Playback in loop, continuously.
PLAYBACK GAIN: The gain of the audio file can be set independently.
STOP RECORD AFTER DURATION: Defines the time of a record session (= simple timer).
Record audio to these file formats:
Playback WAV, AIFF, MP3, M4A, MP4, MOV, AVI, WMA, WMV
ANALOG CONTROLS
LIKE IN THE GOOD OLD TIMES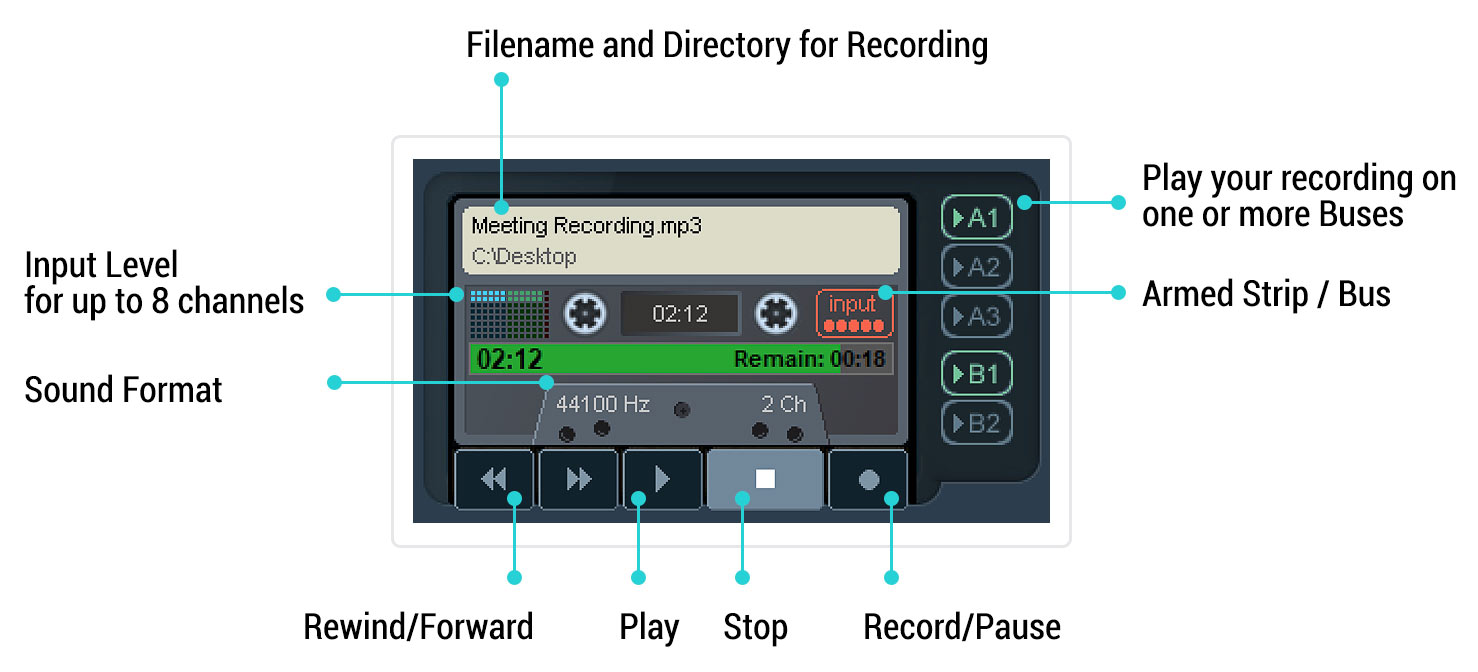 Click on progress bar to position the playback cursor in your audio file.
You can click on RECORD at any moment. It will generate an audio file in your Document/Voicemeeter folder with an automatic name with a prefix, the current date, start time and current file extension (e.g. Record 2021-01-08 at 11h23m24s.wav)
Use the Recorder as Instant Player to create a Soundboard to a launch a sound at the push of a button.
Use these scripts in the MacroButton editor (for more information consult the VoiceMeeter manual):
Recorder.load = "complete filename"
Recorder.Play =1 "Play the Sound"
Recorder.Replay =1 "Replay the sound from start"
Pre Fader input recording (Stereo)
This basic option records one or all inputs in a stereo mix. The sources are taken before any processing take place. No gain, no fx, mute or solo. All sources are simply mixed together with their original volume in a stereo file.
In this example the 3 hardware inputs are selected, mixed and recorded:
How to select, which inputs you want to mix and record?
Open the Tape Recorder Options dialog and activate (= "arm") the buttons for the inputs, you want to record. In this example the 3 hardware inputs and the virtual input are selected and will be mixed and recorded to a stereo file:
Record a full Mix on a Bus (up to 8 channels)
Record the output of a BUS (from 2 to 8 channel) possible with the COMPOSITE options. The file will include the mix, you hear on the selected BUS – including all gains and effects (= Post Fader output recording).
You can use a "free" BUS not used with an audio device, to record a selected source.
Select which output (Bus) you want to record in the Tape Recorder options dialog:
REC – PAUSE: Using VoiceMeeter as Dictaphone
The Recorder can be used as Dictaphone. Simply press the REC button to pause the recording and press again to continue. All audio segments will be recorded in the same file. Useful to pause conference recordings or podcasts, e.g. during breaks.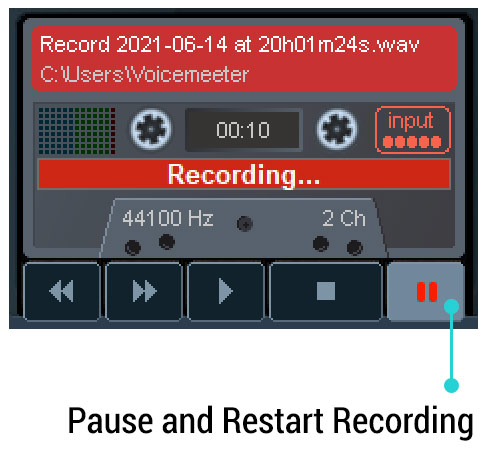 MultiTrack Mode (generate a single file per track)
The recorder provides a Multitrack option, which generates one file per selected track and channel.
The file name will be suffixed by "_Track1", "_Track2", "_Track3" … according the number of channels, defined for the file format.
Open the Recorder option dialog and set the MULTITRACK OPTION to "Yes" and select the number of channels (2 – 8):