Set Voicemeeter as your
Windows mixer.
PLAY YOUR SOUNDS ON SPEAKERS AND HEADPHONES.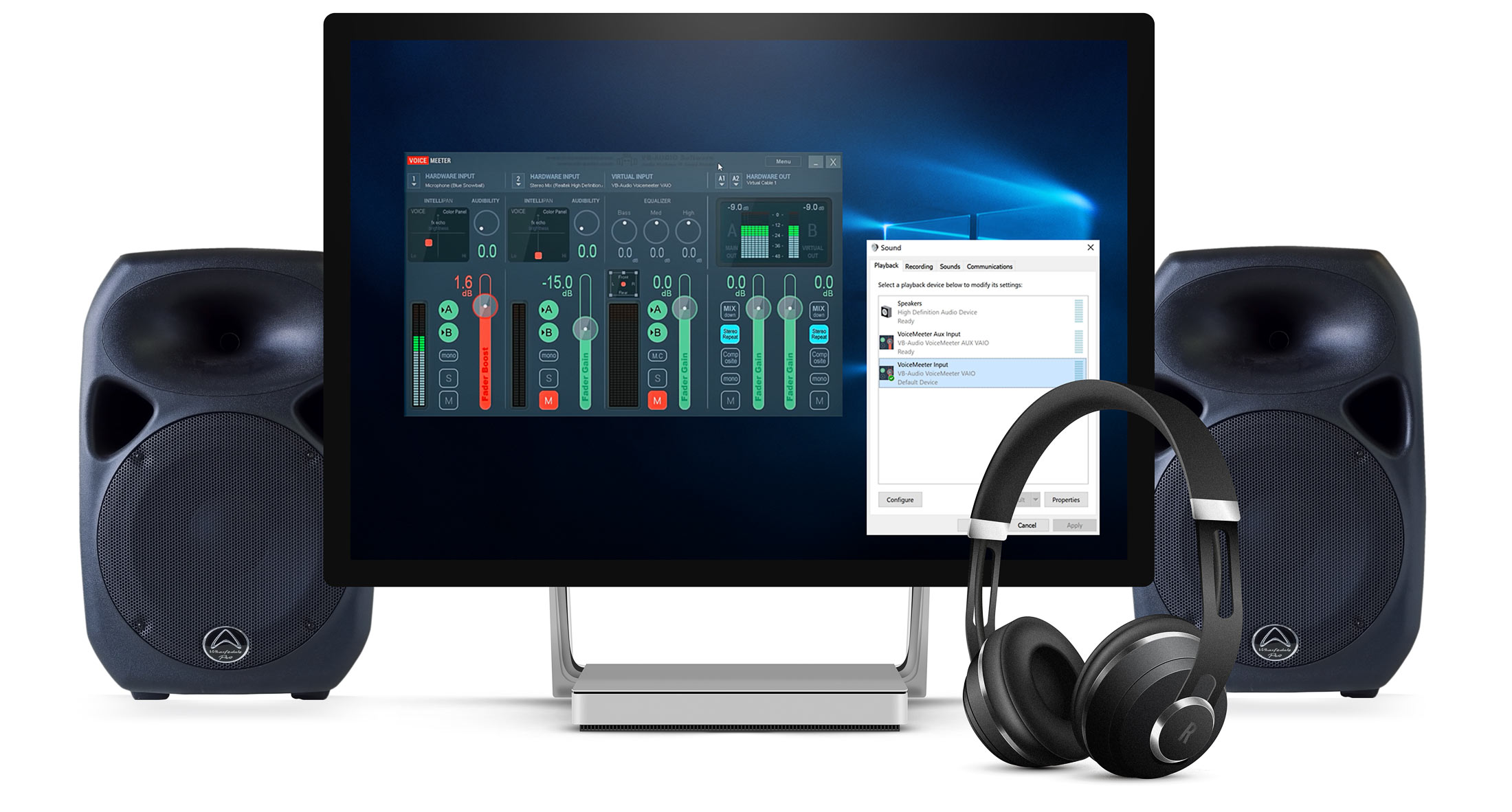 VOICEMEETER is an incredible powerful virtual audio mixer, intended to replace the standard Windows Mixer. It simply needs two steps:
Set VOICEMEETER as the default Windows input device and
set your speakers as main output device.
VOICEMEETER to the rescue.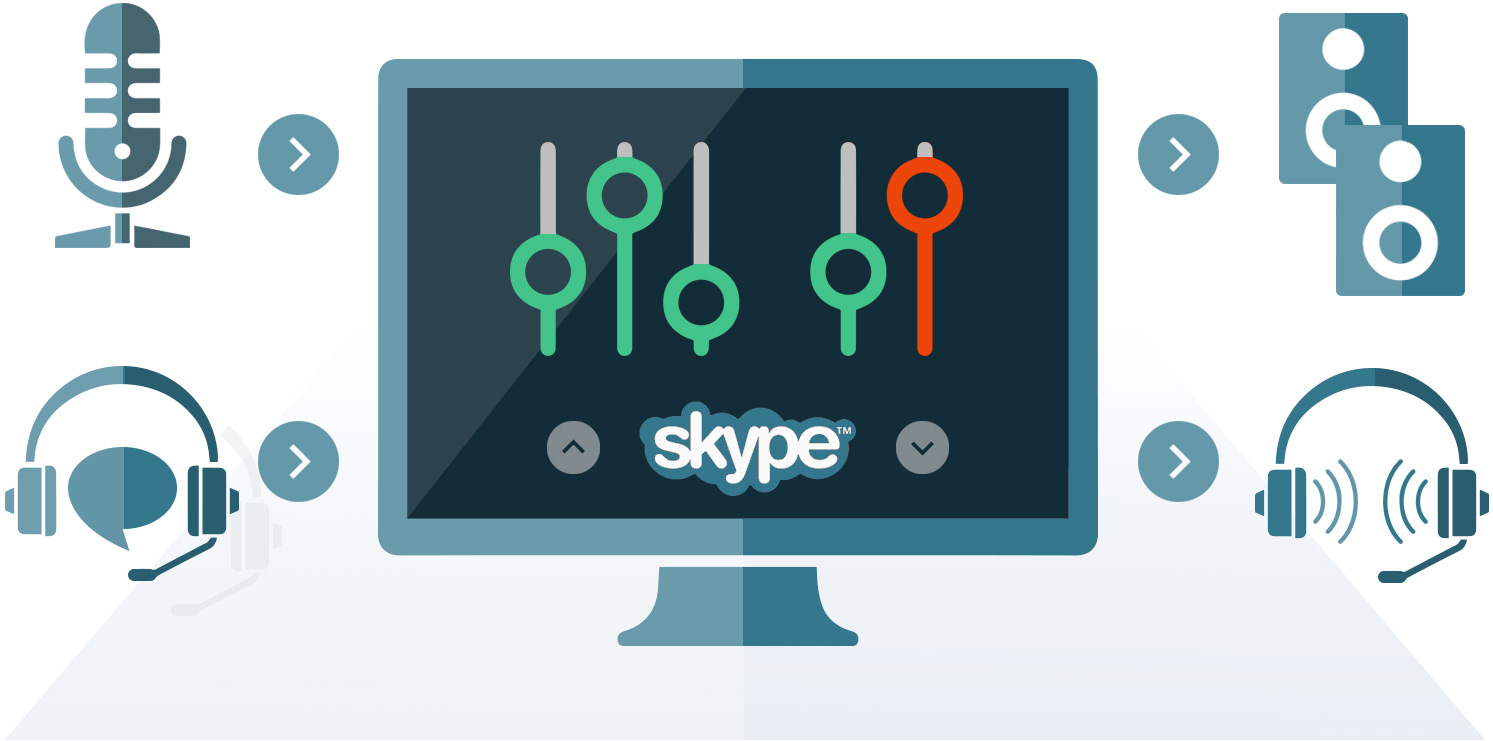 VOICEMEETER can mix audio sources from different audio devices with any audio application. By replacing the standard Windows mixer …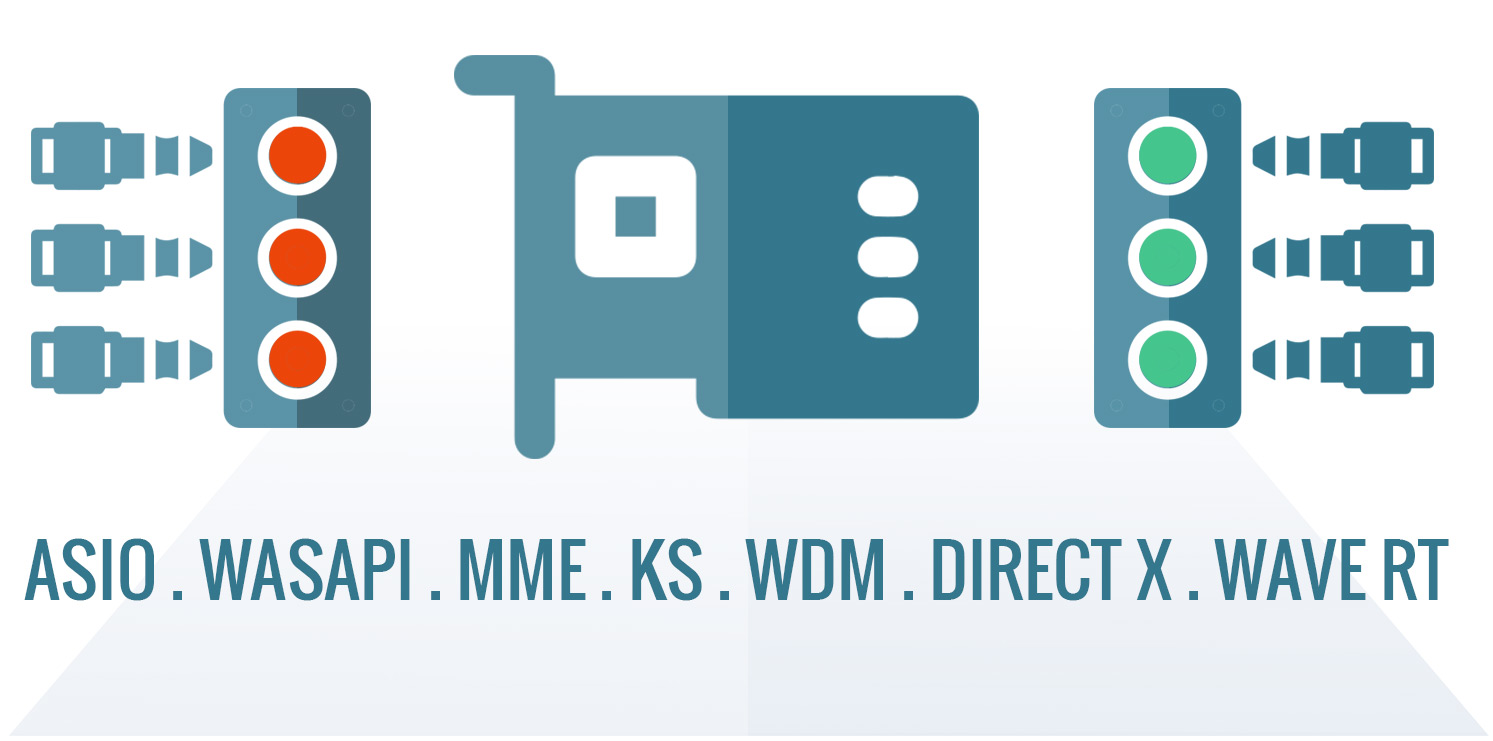 … ALL SOURCES can be mixed, regardless of their driver format: Microphones, Soundcards, Music, Movie Sound, a Skype call, Video game sound, Teamspeak, Internet Radio …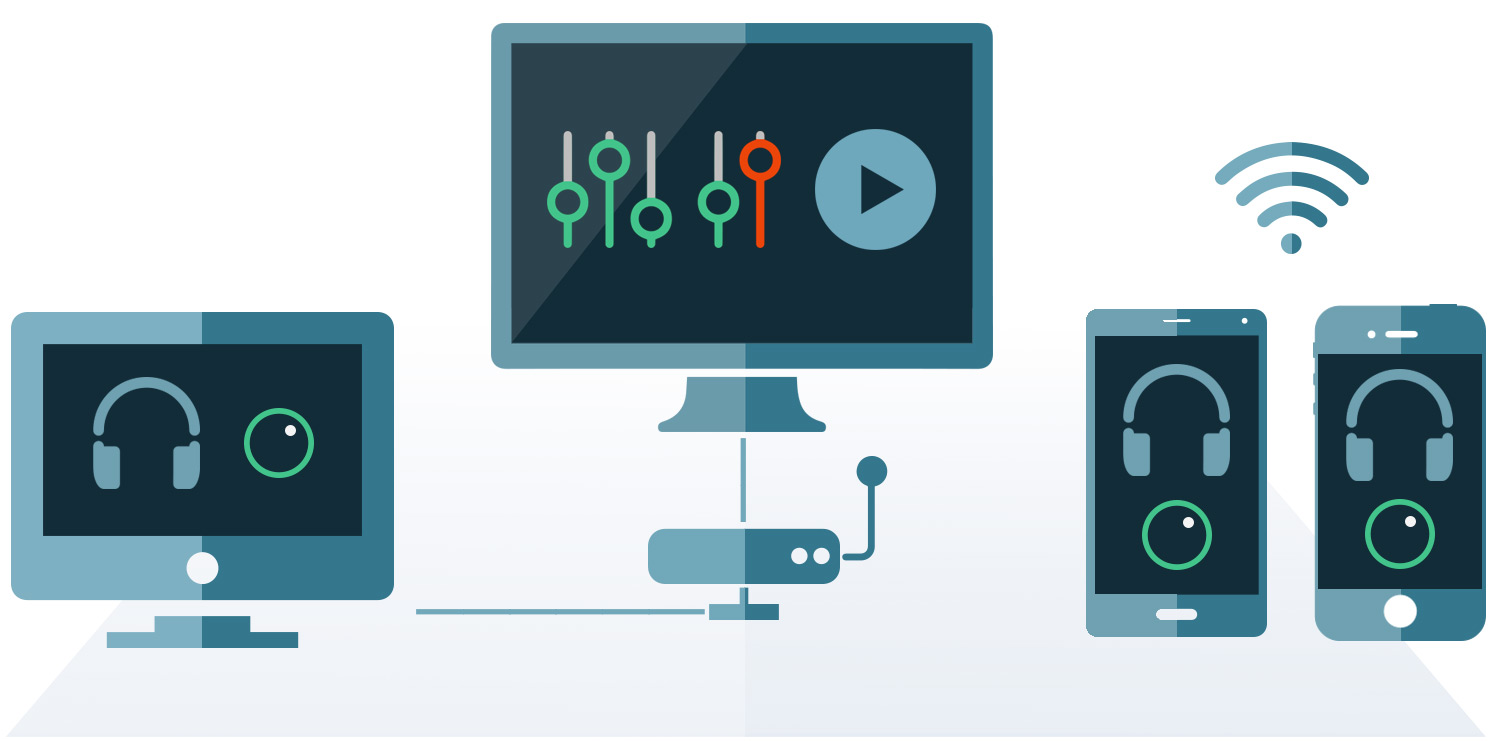 The mixes can be sent to Headphones plus Speakers (BUS A1/A2) and to software (BUS B). Mixes can even be streamed to mobile phones or other PCs.
VOICEMEETER replaces the Windows mixer.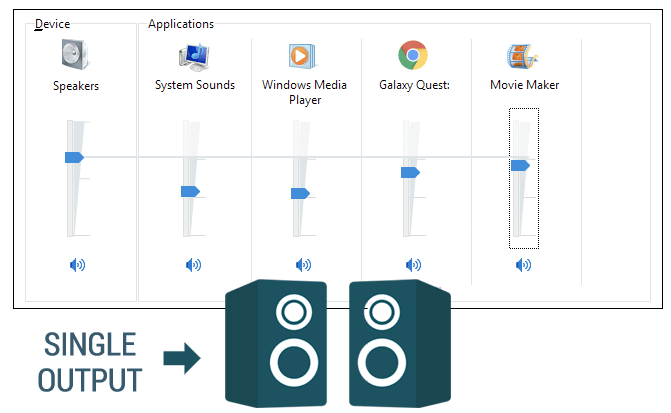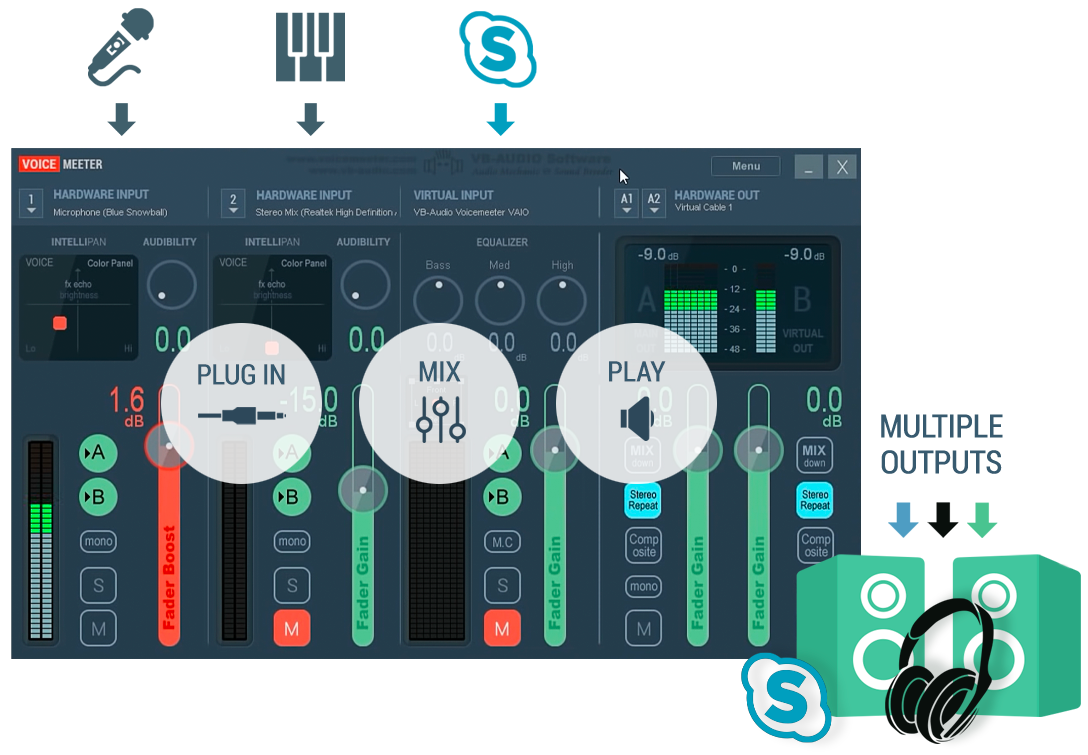 Out of the box Microsoft Windows cannot mix several audio device drivers and audio applications and provide sound effects.
Example: It is not possible to mix a headset plus an audio input with a Skype call and listen to the combined result. Usually it´s only possible, to use more than one device at a time in a software application (e. g. the Mic headset in Skype, Game Sound). Especially internet browsers don´t provide a audio device selection, they are limited to the default windows audio device.
VOICEMEETER comes to the rescue and manages all Windows audio in a smart way, by giving you a new and powerful mixer and audio managment system.
VOICEMEETER works as a Virtual Soundcard, which mixes every source – seamlessly. It even streams Audio over the Network to other VBAN clients. Windows recognizes it as a multi-channel "hardware" device with 12 inputs and 12 outputs.
It supports all common audio formats: MME, Direct-X, KS, WaveRT, WASAPI and ASIO. This way all audio devices can be simply plugged into VOICEMEETER. With the universal driver support VOICEMEETER can even work as a bridge for different driver formats, combining audio hardware from different manufacturers and exchanging audio, e. g. Focusrite, RME, UAD, Soundblaster … you name it.
A TYPICAL VOICEMEETER SETUP:
2 x Hardware + 1 x Software
SET VOICEMEETER
AS YOUR DEFAULT OUTPUT DEVICE.

ALL SOUNDS WILL PASS THROUGH IT.
VOICEMEETER can be found in the Windows application menu after successful installation.
The Windows system audio device list now includes a virtual VOICEMEETER playback and recording device.
Open the Windows Sound Control Panel (see below) and select the Playback tab.
Set VB-Audio VoiceMeeter VAIO as your default Playback (= Output) audio device.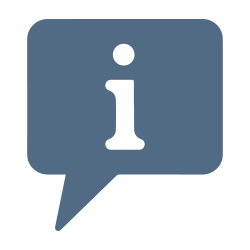 You can find the Windows Sound Control Panel:
Settings / Sound / Related Settings (Scroll down)
VOICEMEETER has to appear with the VOICEMEETER icon, otherwise there is a possible driver installation problem (usually caused by Windows 10 updates).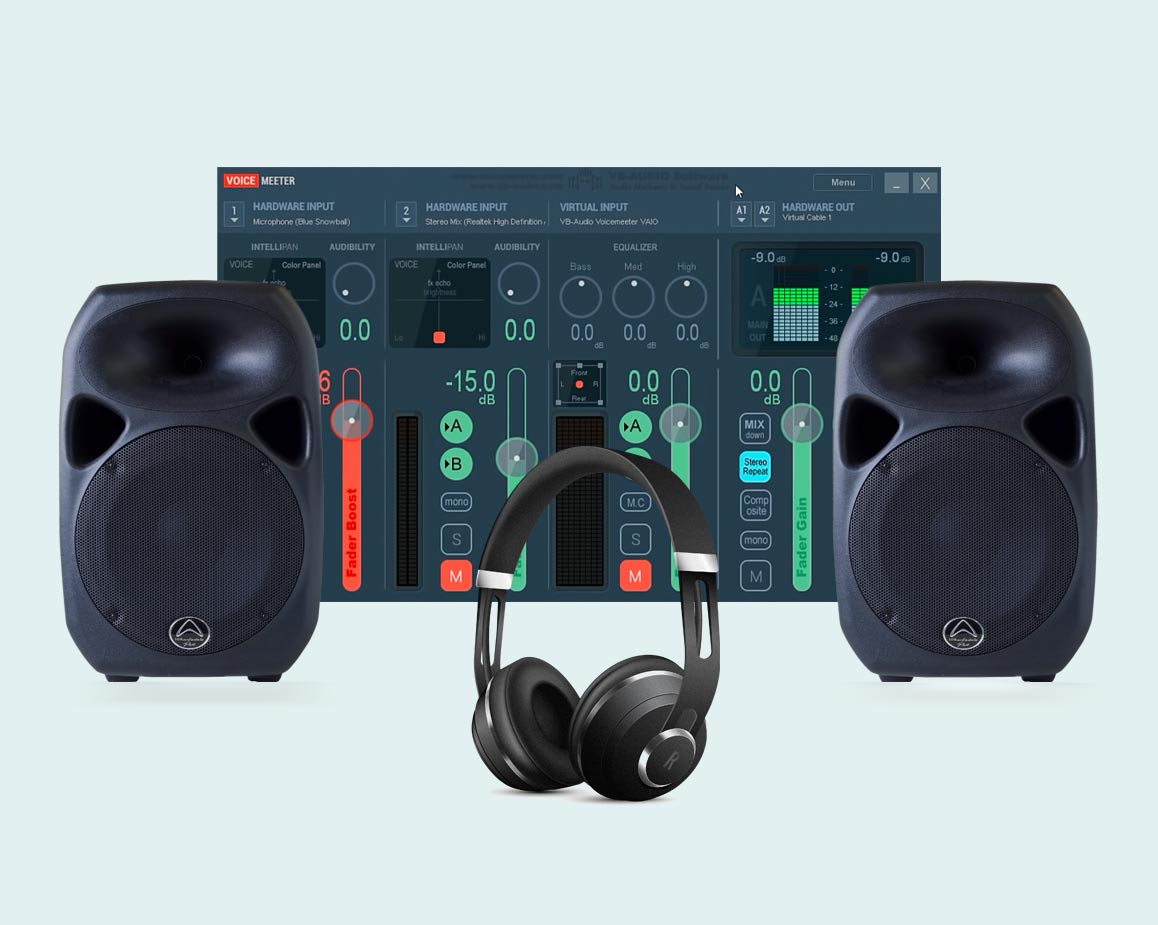 SELECT YOUR MAIN
OUTPUT DEVICE

TO PLAY ALL YOUR AUDIO ON SPEAKERS AND/OR HEADPHONES.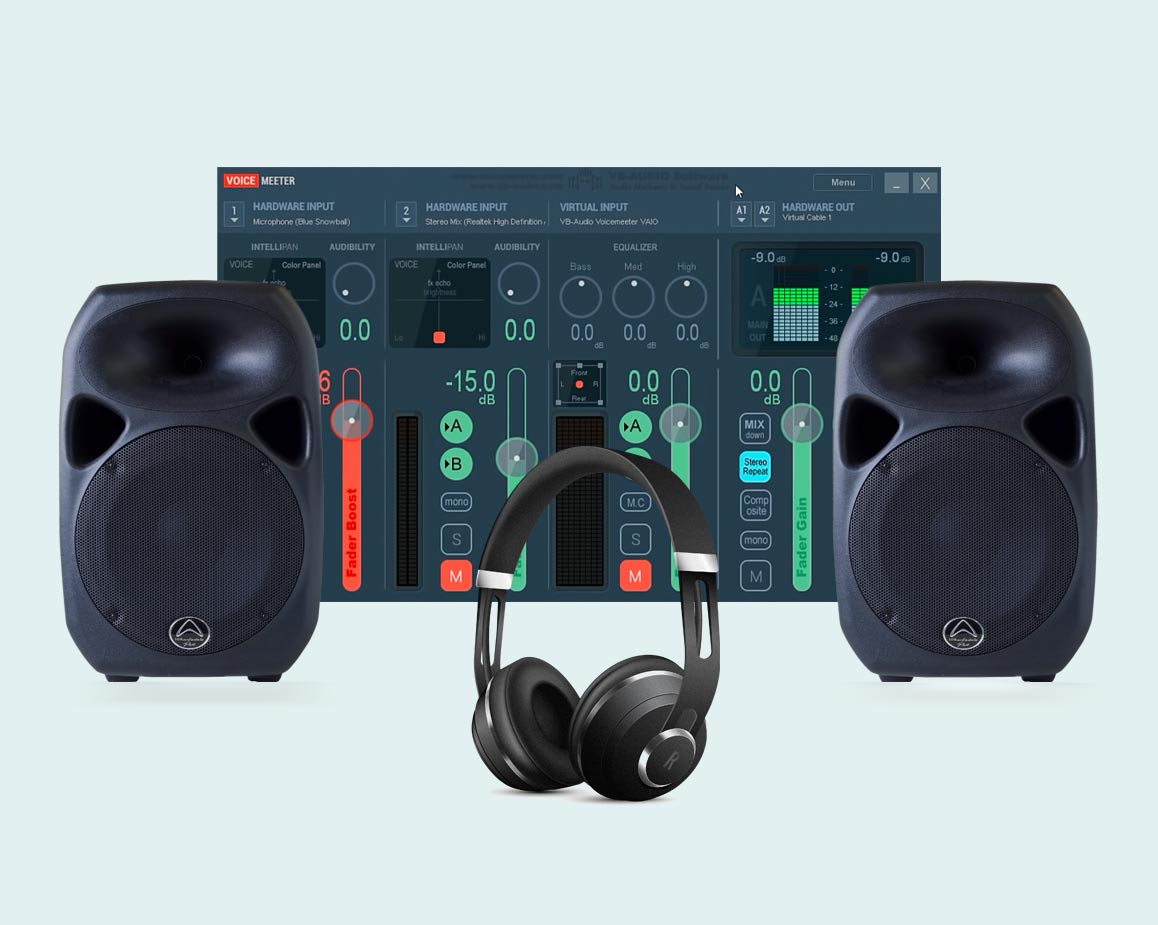 With STEP 1 all of your audio goes into VOICEMEETER. To play it to your speakers or headphones, simply select the main output device on BUS A1.
To play on another device at the same time, VOICEMEETER provides two hardware outputs on BUS A: A1 + A2.
Select another driver on A2. This way, you can use headphones parallel to your desktop speakers.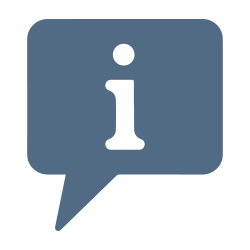 Every output device on your computer is represented by its driver name (e.g. USB Headset).
We recommend the selection of an ASIO or WDM device to get the best possible latency. These devices are used by default in exclusive mode, bypassing the Windows mixer and possibly its Volume Control.
ITS DONE:
ALL AUDIO PASSES NOW
THROUGH VOICEMEETER.
One more thing:
Open the Communications Tab in the Sound Control Panel and check: "Do nothing."
Otherwise other Mic inputs – not used by the communications app – may not work correctly with VOICEMEETER.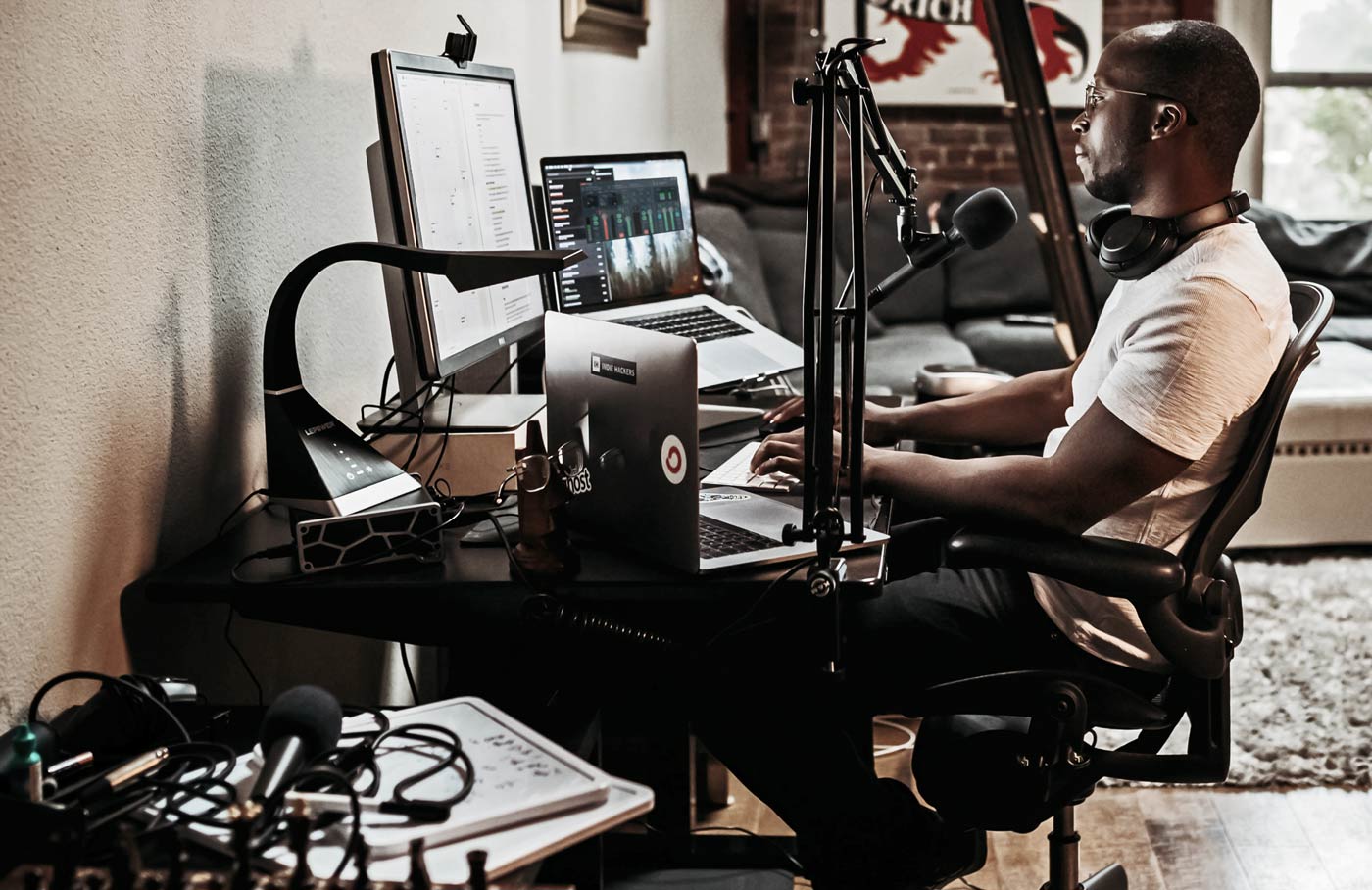 You are ready to go.
Mix your devices.
Control your volume.
Use sound effects.
Start your Podcast.
Need more help? Check out these videos: